REBUILDING KENMARE GOLF CLUB
March 17th Update
We're delighted to announce that our rebuild tendering process has been completed and that KPH Construction Ltd have been selected as the company to rebuild our historic clubhouse. It is anticipated that works will commence as soon as Covid 19 restrictions around construction are removed. As soon as ground is broken, you'll see pictures here.
Jan 11th Update
Our Rebuild Committee have been working tirelessly to run a high quality tender and bid process for our new building. This process is nearing final stages, and we hope to have significant announcements in the coming weeks.
Oct 27th Update

We are delighted to announce that our planning decision documents from Kerry County Council were received on October 22nd, with full planning permission granted. This means that our Building Committee are exactly on track – in fact they are running four days ahead of the best possible time estimate given for planning. With planning complete, this now allows the team to finalise construction design and move closer to the tendering stage.
Oct 6th Update
Significant progress has been achieved since our last update. Both our Management Committee and Building Committee have made great progress. Our insurance processes have been completed to a satisfactory result. Our fundraising team have achieved their targets and all monies have been transferred safely to club accounts.
Our planning application for the rebuild clubhouse has been submitted. Work on interior design, safety and regulation certificates as well as tender preparation in advance of a planning result. Fingers crossed.
August 6th Update
We'd like to take the opportunity to update you on progress at the club and work to recover and rebuild following our clubhouse fire on June 1st.
We hosted our Rebuild Classic between July 22nd and 25th. This was an unprecedented success, with 166 teams (664 golfers) taking part. Over 50% of the players were from golf clubs outside Kenmare – we're delighted with the help and support from clubs throughout Ireland for this event.
In addition a number of local businesses (like Hallissey's Supermarket, Lorge Chocolates, Holly Hughes Injury and Rehabilitation) supplied samples and discounts for golfers, and a huge number of businesses teams in the event. For example Lovett & Harrington sponsored the Men's winners, and Tom Crean Brewery were the backers of the mixed winners.
Our rebuild Committee have been extremely busy since the fire. John Barry of Dwellspace, based in Kenmare, was given the task of designing a new clubhouse and on Aug 5th, the Committee were delighted to present the proposed design to the members of the club. The response from the club membership has been very positive and the next step is for the building committee to meet to discuss all feedback and incorporate any changes deemed necessary.
This is the design brief used for the proposed design:
"While the aim is to build a new clubhouse, the overwhelming consensus within the club and the local community is that the existing clubhouse is unique and an attractive building especially viewed from the public road.
The brief therefore was to design a new clubhouse to meet all current building regulations, but to do so within a structure that will pay homage to the existing building aesthetic."
Feedback from members at the presentation was constructive and positive, with some excellent ideas captured for incorporation into the design.
Next steps are the incorporation of all member ideas where budget allows for this, and then to proceed to the planning application stage.
The proposed replacement building is shown in these 3D artists images: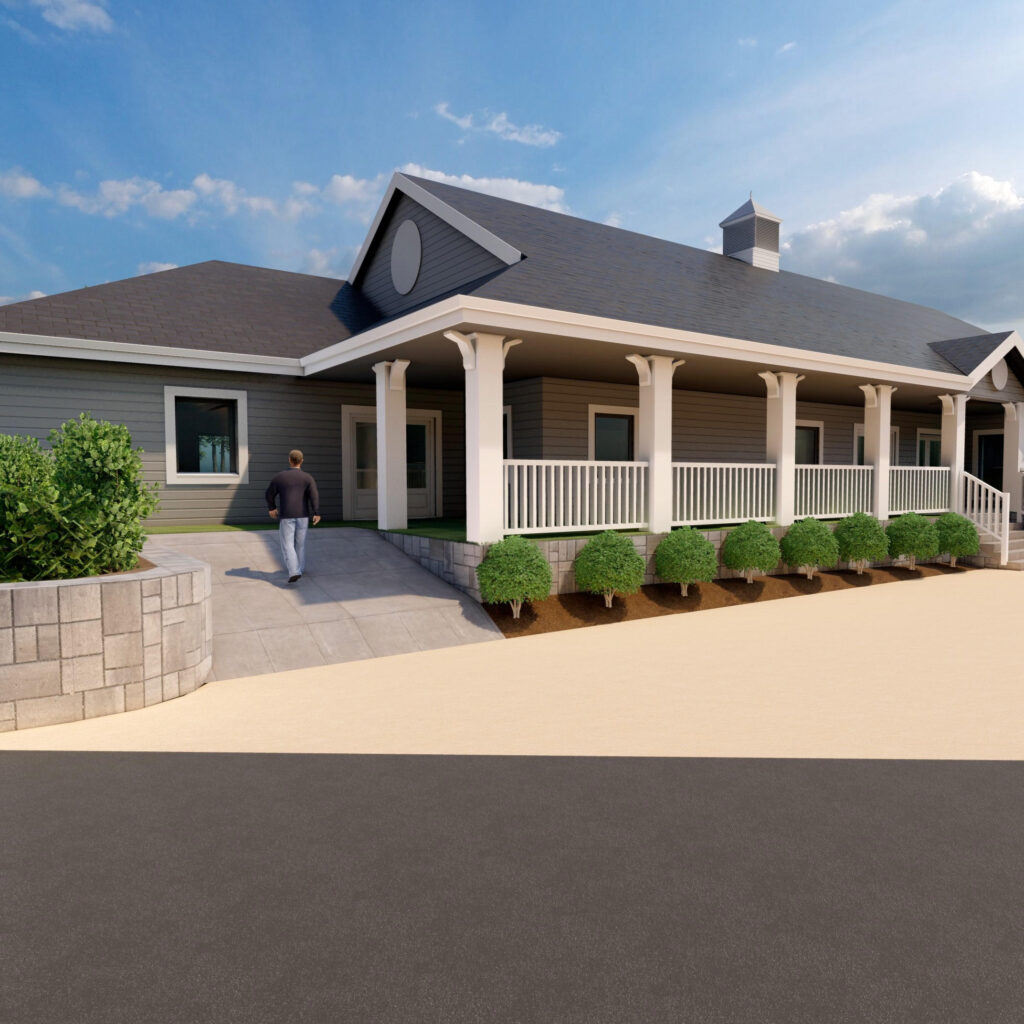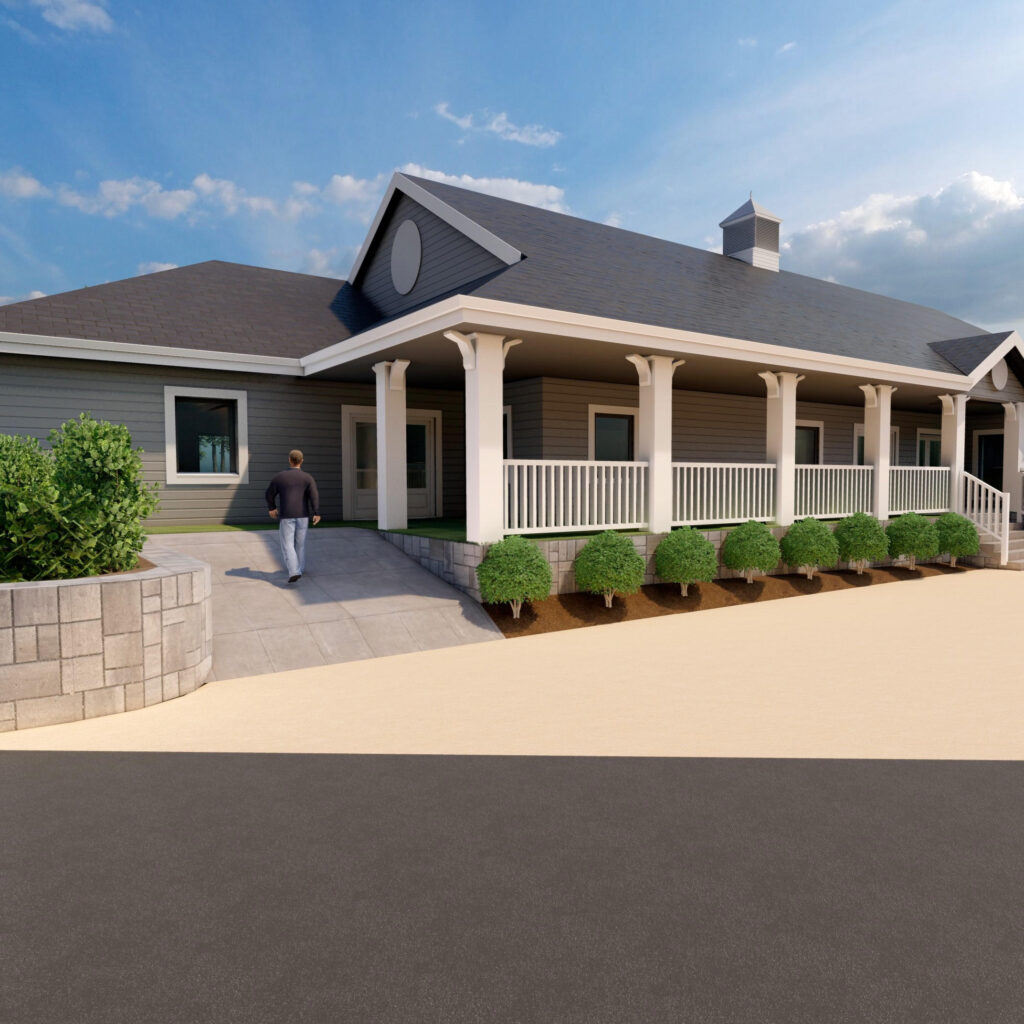 REBUILDING KENMARE GOLF CLUB
July 1st Update
Work with our insurance provider is proceeding in a satisfactory manner. 
Temporary changing and office facilities are onsite, with plumbing and electrical works being completed over the next two weeks.
Our Ladies and Men's Clubs are proceeding with putting competitions and scoring systems in place to facilitate contactless scoring and payment. The focus for the next month goes on a club classic, as you can see below. Golfing support required!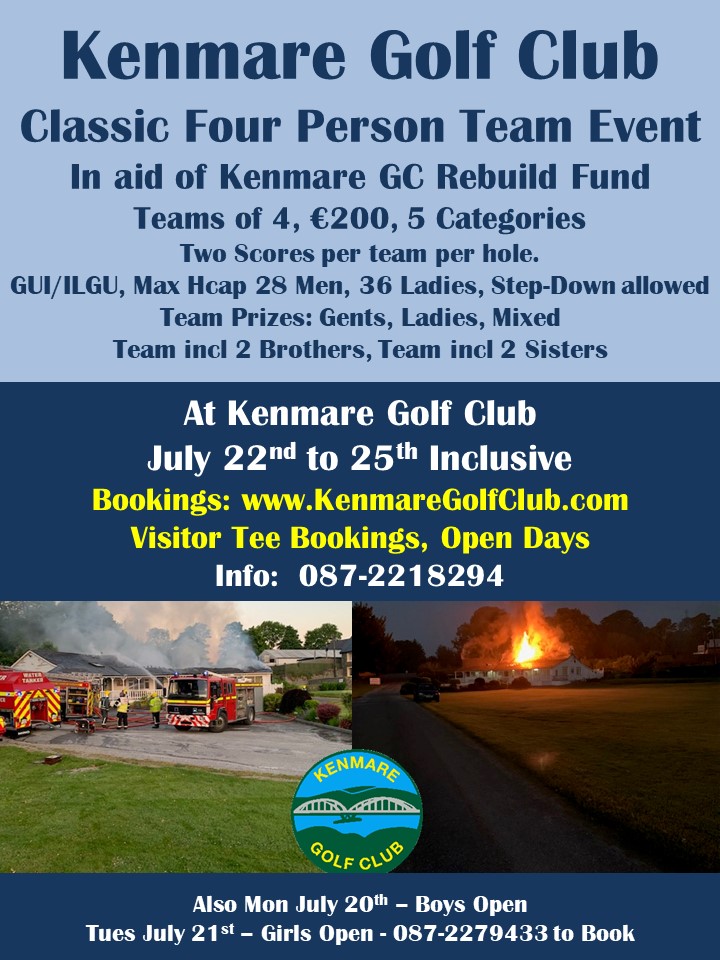 June 22nd Update
We will commit to updating you on a monthly basis as to how the rebuild work is proceeding. This month, the following has been completed:
The remaining parts of the building – chimney, remaining roof beams etc have been removed, making the existing structure safe.
Insurance processes are continuing, thoroughly and as quickly as possible.
Initial discussions have begun on forming a rebuild commmittee to gather requirements and approve designs based on the results of the insurance process.
Public and member fundraising – GoFundme and direct – has been overwhelmingly successful. We're now moving to golf-focused fundraising with a massive classic planned for the week of July 20th. The main message this month is one of enormous gratitude to friends and supporters of Kenmare GC who have helped out at a vital time.
"Thank you from Kenmare Golf Club:

Following the fire at our clubhouse on Monday June 1st
June, the club has received incredible support from the local community, our
members, our sponsors, fellow golf clubs and individuals from all across the
world.
Our GoFundMe page has closed from midnight on Sunday June 21st.
We would like to express our sincere appreciation for all of the well
wishes and donations received over this challenging period. These past weeks have demonstrated the strong
spirit within this historic club.
In the short term the funds raised will go towards
maintaining the club's essential operations and the installation of a temporary
club office and changing facilities. In
the long term these funds will go towards rebuilding a permanent home for our
members and visiting guests for generations to come.
We look forward to welcoming you to our new clubhouse in the
future.
Sincere thanks,
Kenmare Golf Club"

Kenmare Golf Club, Killowen Road, Kenmare, County  Kerry, Ireland, V93 XW8E