REBUILDING KENMARE GOLF CLUB
July 1st Update
Work with our insurance provider is proceeding in a satisfactory manner. 
Temporary changing and office facilities are onsite, with plumbing and electrical works being completed over the next two weeks.
Our Ladies and Men's Clubs are proceeding with putting competitions and scoring systems in place to facilitate contactless scoring and payment. The focus for the next month goes on a club classic, as you can see below. Golfing support required!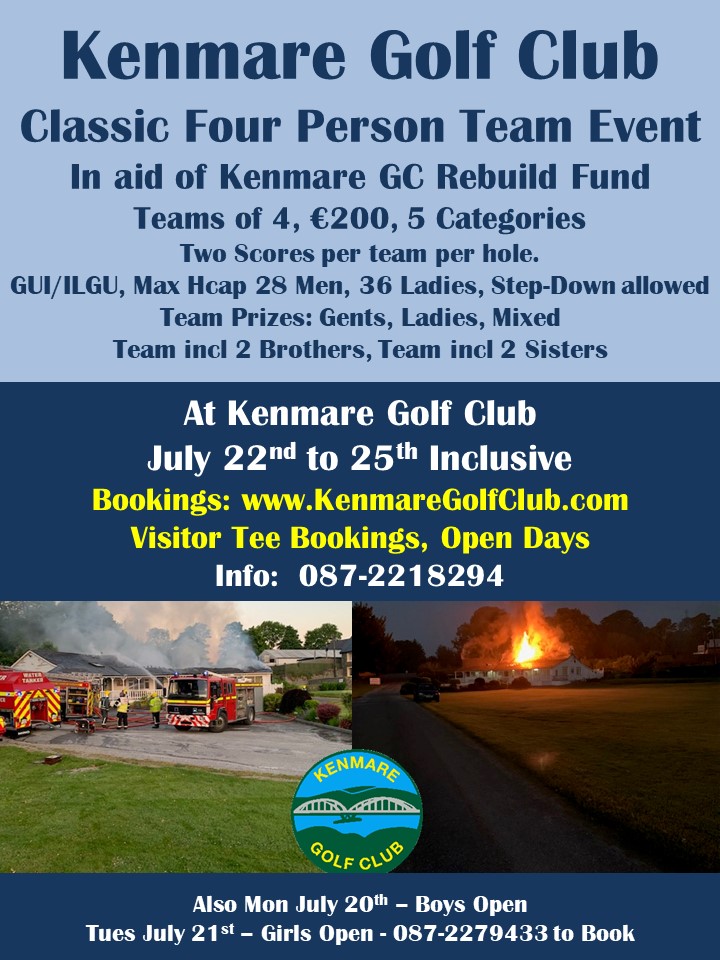 June 22nd Update
We will commit to updating you on a monthly basis as to how the rebuild work is proceeding. This month, the following has been completed:
The remaining parts of the building – chimney, remaining roof beams etc have been removed, making the existing structure safe.
Insurance processes are continuing, thoroughly and as quickly as possible.
Initial discussions have begun on forming a rebuild commmittee to gather requirements and approve designs based on the results of the insurance process.
Public and member fundraising – GoFundme and direct – has been overwhelmingly successful. We're now moving to golf-focused fundraising with a massive classic planned for the week of July 20th. The main message this month is one of enormous gratitude to friends and supporters of Kenmare GC who have helped out at a vital time.
"Thank you from Kenmare Golf Club:

Following the fire at our clubhouse on Monday June 1st
June, the club has received incredible support from the local community, our
members, our sponsors, fellow golf clubs and individuals from all across the
world.
Our GoFundMe page has closed from midnight on Sunday June 21st.
We would like to express our sincere appreciation for all of the well
wishes and donations received over this challenging period. These past weeks have demonstrated the strong
spirit within this historic club.
In the short term the funds raised will go towards
maintaining the club's essential operations and the installation of a temporary
club office and changing facilities. In
the long term these funds will go towards rebuilding a permanent home for our
members and visiting guests for generations to come.
We look forward to welcoming you to our new clubhouse in the
future.
Sincere thanks,
Kenmare Golf Club"

Kenmare Golf Club, Killowen Road, Kenmare, County  Kerry, Ireland, V93 XW8E